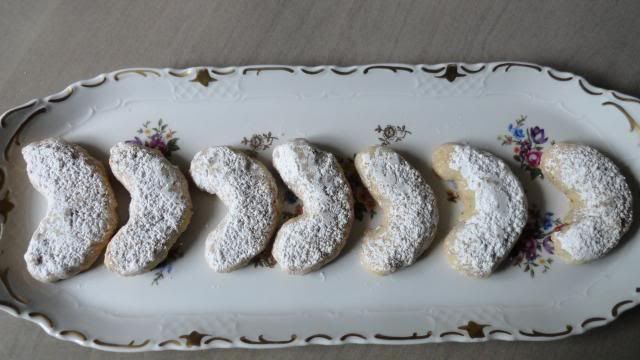 In all my cozy mysteries, I include recipes. I love to cook. I regularly post recipes on Mystery Lovers Kitchen, a site where mystery authors love to "cook up crime." When I was a girl, I used to make pies to sell around the neighborhood. I learned by lots of practice. (And lots of mistakes.)
In Final Sentence, the first in A Cookbook Nook Mystery series, Jenna, the protagonist, is learning how to cook. She's a foodie, a
real gourmet, but she simply never had to cook because her mother did all the cooking. Oops. Jenna's old college roommate, Desiree, a celebrity chef, has agreed to sign books at the opening of The Cookbook Nook. Desiree's latest cookbook is all about sweets. Jenna, who adores sweets, falls in love with one of the recipes, a Mexican wedding cookie. Jenna loved PlayDough as a kid and enjoys sculpting and painting now, so she feels pretty comfortable taking on this recipe. She learns, while making these cookies, that baking is all about having fun.  This recipe is included in Final Sentence.
Daryl Wood Gerber's Guest Author Blog:
Where Do You Get Your Ideas?
---
Prep Time: 20 minutes
Cook Time: 40 minutes
Total Time: 1 hour, 20 minutes
Yield: 25-30 cookies
A sweet, buttery cookie with a rich almond flavor and light crunch. A featured recipe in FINAL SENTENCE by Daryl Wood Gerber.
Ingredients
1 cup unsalted butter, at room temperature
1/2 cup confectioners' sugar, plus more for coating baked cookies
1 teaspoon vanilla extract
1 3/4 cups all-purpose flour
1 cup finely-chopped almonds or pecans (see note)
Instructions
Preheat oven to 275ºF. Line two cookie sheets with parchment paper.
Using an electric mixer, cream the butter and sugar at low speed until smooth. Beat in the vanilla.
At low speed, gradually add the flour. Add the nuts and combine with a spatula.
Shape about one tablespoon of dough into a crescent and place on prepared cookie sheet. (If dough is crumbly add water, one tablespoon at a time, until dough holds together. If dough becomes sticky, dust hands with flour between shaping each crescent.) Repeat using remainder of dough.
Bake for 40 minutes. When the cookies are cool enough to handle, but still warm, roll them in confectioners' sugar to coat. After cookies cool completely, sift additional sugar over the tops and sides, and serve.
Store in an airtight container.
Savor the flavor!
Notes
I use my food processer to chop the nuts. You can also use a "whackah-whackah" (manual food chopper) or put them in a bag and smash them with a meat tenderizer hammer.