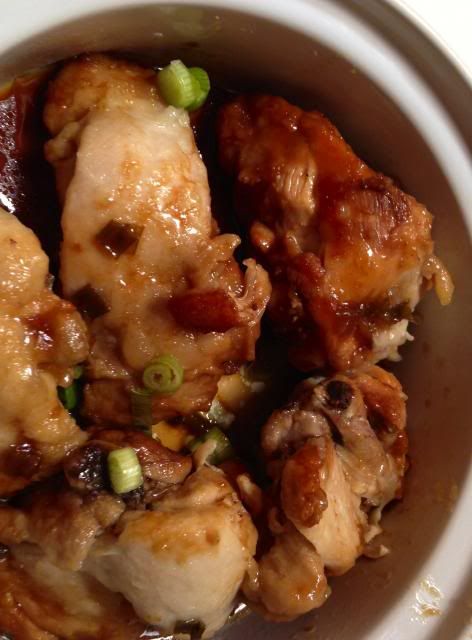 There's a saying among Chinese food connoisseurs that if a Taiwanese style restaurant doesn't make good "three cups chicken," it isn't worthy of the name. That's probably true, but sanbeiji isn't really Taiwanese. It comes from Xiangxi Province, in southern China. There's a story that Wen Tianjiang (1236-83) was the reason it was created. Wen was a government official in the Song Dynasty when the Yuan armies of Kublai Khan invaded China. Wen was captured and ordered to tell the Song army to surrender. He wouldn't. He went to jail and was eventually executed, becoming a hero in the process. The story is that the prison warden had only a single ceramic pot and wanted to cook Wen a last, memorable meal. So he came up with the idea of combining chicken with three other ingredients. There's a lot of disagreement as to what three those were. The recipe I use is a fairly standard one, though, and it's the one I mentioned in the book, the one that impressed the husband-and -wife owners of the restaurant to hire Tucker. I cannot guarantee you will get the same results, but I think you will enjoy it.
---
Prep Time: 15 minutes
Cook Time: 30 minutes
The classic braised Chinese chicken dish from author Dave Lowry, paired with his novel, CHINESE COOKING FOR DIAMOND THIEVES.
Ingredients
1 pound chicken thighs, skinned
1 tablespoon cornstarch
Peanut oil, for cooking
4 slices ginger (cut into the diameter of quarter, about ½ inch thick) plus additional chopped ginger for the stock
2 green onions, roughly chopped
3 tablespoons Shaoxing rice wine (see note)
3 tablespoons light soy sauce
½ cup chicken stock (if you're making homemade stock make the stock as you normally would, but add chopped ginger to it, say, about a tablespoon to four cups of stock)
½ teaspoon toasted sesame oil
Instructions
Whack the thighs right in the middle, to break them into two pieces (see note). Chicken always tastes better when cooked on the bone. Toss the pieces in the cornstarch to cover them.
Put enough oil in the bottom of your dish or pot to cover it. Heat the oil until it crackles if you add a pinch of cornstarch (very hot, in other words), and toss in the chicken. It should sizzle.
Add the ginger and green onions, wine, soy sauce, and chicken stock and bring the liquid to a boil. Cover and reduce the heat to a simmer. After 30 minutes or so, check to be sure the liquid has boiled down to a thick, glossy sauce. Add the sesame oil and stir. Get it on the table and serve with rice.
Now, the Taiwanese will tell you it needs basil. Or maybe some chopped mushrooms. That's their version. But you and Wen, you'll be eating it the way they do—and have long done—in Xiangxi. Though unlike him, let's hope it isn't your final meal
Notes
You probably can get Shaoxing rice wine at your local grocery, or you can find it at any good Asian market. You can also substitute good-quality dry sherry (not cooking sherry) for the Shaoxing rice wine. This dish will look and taste best in a clay pot. You can buy one very cheaply at an Asian market, but you can also use a small, thick casserole dish.
The chicken should be sizzling when it comes to the table, and it should be cooked so it's just short of burning. This is a bit tricky. It's really a braise, so you want it very well done.
If you don't have a cleaver big enough to cut chicken thigh bones, go buy one (or have the butcher cut the bones). You should have one of these around for cooking and for settling arguments.